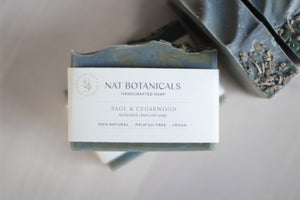 SAGE & CEDARWOOD, Activated Charcoal Soap with Aloe Vera
Known for its detoxifying properties, activated charcoal is a popular skincare ingredient that helps deeply cleanse the skin by removing impurities. Combined with a blend of purifying sage and anti-inflammatory cedarwood essential oils, this soap makes a great detox bar. It is enriched with fresh aloe vera juice and avocado oil to moisturize the skin and leave it feeling supple. The perfect choice for congested or acne-prone skin.

Recommended for body and face. Suitable for all skin types. Particularly kind to oily, clogged, and inflamed skin.

100% natural, vegan, palm-oil free, handcrafted in the U.S.

SCENT : Camphoraceous/Woodsy
Naturally scented with a blend of sage and cedarwood pure essential oils.
INGREDIENTS
Olive Oil, Coconut Oil, Aloe Vera Juice, Distilled Water, Sodium Hydroxide, Cocoa Butter, Avocado Oil, Pure Essential Oils, Activated Charcoal, Kaolin Clay, Botanicals. 
STORAGE
Before use, store in a cool and dry place. Once in use, place on a soap holder that promotes good drainage. Allow the bar to dry between uses to help extend its lifespan.
DIMENSIONS
Net Wt: 4.5 oz. | Size: 3.5" w x 2.5" h x 1" d
ABOUT NAT BOTANICAL SOAPS
Nat Botanicals soaps are handcrafted in small batches in the traditional cold process method with plant-based oils and butters. Our soaps are 100% natural and sustainably formulated to be good for your skin and gentle on the earth. All of our soaps are free of palm oil, synthetic fragrances, artificial colorants, and preservatives.
Sustainably handmade and packaged in Lexington, KY | Woman-owned Business.