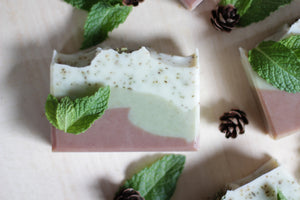 FOREST MINT, Woodland Collection (limited edition)
Nat Botanicals Woodland Collection is made of four limited-edition soap bars featuring classic woodsy scents with a twist. Lavender Woods, Forest Mint, Wild Citrus, and Spiced Cedar invite you to indulge in an olfactory walk through wondrous woodlands, where florals flirt with cedars and citrus dance with evergreens.
Available individually, as a four-soap bundle, or gift set (the gift set comes beautifully presented in a gift box adorned with shred, botanicals, and tissue paper; ready to gift!) 
Recommended for body and face. Suitable for all skin types.
100% natural, vegan, palm-oil free, handcrafted in the U.S.
SCENT : Herbaceous Evergreen
Forest Mint is naturally scented with a pure essential oil blend including spearmint, rosemary, juniper, and cedarwood.
INGREDIENTS
Saponified Oils/Butters: Coconut Oil, Olive Oil, Cocoa Butter, Shea Butter, Hemp Seed Oil, and Castor Oil. Pure Essential Oil Blend, Raw Cocoa Powder, Walnut Hull Powder, Moringa Powder, Botanicals.
STORAGE
Before use, store in a cool and dry place. Once in use, place on a soap holder that promotes good drainage. Allow the bar to dry between uses to help extend its lifespan.
DIMENSIONS
Net Wt: Approx. 4.5 oz. | Size: 3.5" w x 2.5" h x 1" d
ABOUT NAT BOTANICAL SOAPS
Nat Botanicals soaps are handcrafted in small batches in the traditional cold process method with plant-based oils and butters. Our soaps are 100% natural and sustainably formulated to feel luxurious on your skin while being gentle on the earth. All of our soaps are free of palm oil, synthetic fragrances, artificial colorants, and preservatives.
Sustainably handmade and packaged in Lexington, KY | Woman-owned Business.