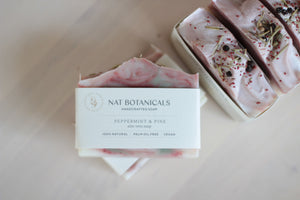 PEPPERMINT & PINE, Seasonal Soap with Aloe Vera

Made with a blend of nourishing plant-based oils and moisturizing aloe vera. 100% natural, palm-oil free, and vegan.
SCENT : PEPPERMINT & PINE

Naturally scented with a fresh and invigorating blend of peppermint and scotch pine essential oils.

INGREDIENTS
Coconut Oil, Olive Oil, Shea Butter, Cocoa Butter, Aloe Vera Juice, Distilled Water, Sodium Hydroxide, Avocado Oil, Castor Oil, Pure Essential Oil Blend (Peppermint & Scotch Pine), Australian Red Reef Clay, Spirulina, Botanicals.
STORAGE
Before using, store your bar of soap in a cool and dry place. Once in use, place your bar on a soap holder that promotes good drainage and allow the bar to dry between uses. This will help extend your soap's life.
SOAP BAR DIMENSIONS

Net Weight: Approximately 5 oz.
Size: 3.5" w x 2.5" h x 1" d
ABOUT OUR ARTISAN SOAPS
Our line of artisan soap is 100% all natural, palm-oil free, scented with certified pure essential oils, and naturally colored with mineral clays and botanical ingredients. Handcrafted in small batches using the traditional cold process soap-making method (allowing us full control over the ingredients), our soaps are custom-formulated with skin-loving plant-based oils, botanicals, and pure essential oils. Always free of synthetic fragrances and artificial colorants.
PACKAGING & SHIPPING
Our soaps are tastefully yet minimally and sustainably packaged in an effort to keep our carbon footprint as low as possible. Your soap will be well protected in transit, as we ship our product in boxes. The boxes we use are made of recycled materials and we encourage you to reuse them to extend their lifespan :)